The Best Affordable Electric Toothbrush To Buy in 2022
Are you searching for the best electric toothbrush because of the love you have for smiling and can't seem to go on one day without doing so while at the same time you're addicted to coffee or tea? Most of us know that drinking these delicious beverages on a daily basis can stain your teeth and could make your teeth appear yellow-ish. This is where an electric toothbrush comes into play, especially when you refuse to give up coffees and tea- to help brighten up the appearance of your teeth again. You must be wondering, why electric toothbrush but not normal toothbrush, as according to some studies, electric toothbrush can actually reduce the risk of gum recession and wear-away of tooth structure, therefore it could eliminate the need for manual dexterity and limit the amount of force put onto the teeth and gums.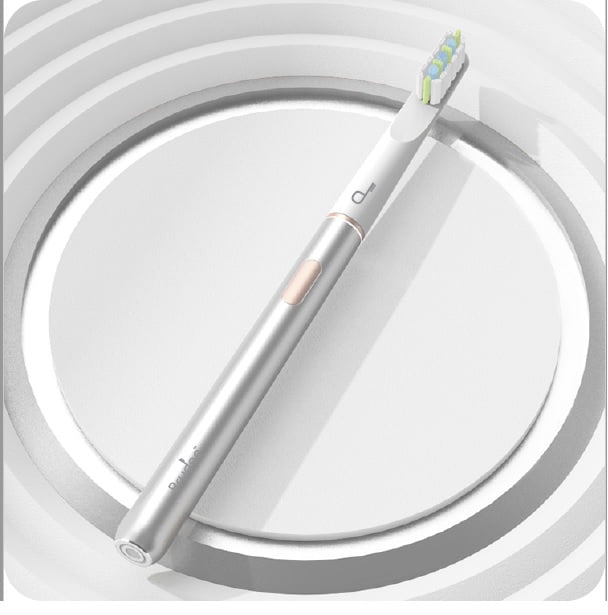 Now that you're searching for the best electric toothbrush Malaysia in order to have a better smile, you might as well get the superior toothbrush which is Brudee, a sonic toothbrush. Curious on what makes this sonic toothbrush better than an electric brush? Read on to find out more.
What is Brudee Sonic Toothbrush and Why is It the Ultimate Choice for Whiter Teeth?
Brudee Oral Care Company was founded with the goal of making excellent oral care affordable to everyone. The brand has been launched during late September in 2019 and have attained around 2,000 users in a year despite being a fresh name announced in the midst of the Covid-19 pandemic.
Brudee's sonic toothbrush is created with the Quad-Interval technology which will have the sonic toothbrush to remind you to move to another part of your mouth after every 30 seconds for a thorough cleaning. At the same time, the nylon bristles are infused with Binchotan Charcoal, which is well known for its ability to remove impurities and unwanted odours from water (Biome, 2016) that is proven by clinical tests where it possesses 90% power of removing plaque and stains rather than a manual toothbrush.
As recommended by most of the dentists, 2 minutes brushing time is the optimum duration for you to have clean teeth and this practice is admittedly hard to comply with especially when you're using a manual brush, hence this wonderful sonic toothbrush will stop by itself once the 2 minutes are up! You may click here if you wish to know more about how to brush your teeth.
Introducing our New Product, Brudee SONIC One
This latest Brudee SONIC One has 3 brushing mode, which are sensitive, clean and whitening. Compared to the normal Brudee sonic toothbrush, it has 32,000 strokes per minute that tackle all the stains in 2 minutes. And it has up to 60 days battery life per full charge!
This Brudee's Sonic Toothbrush has 4 Brushing Modes, which are:
Sensitive Mode
Suitable for people with sensitive teeth & gums since it operates at a lower frequency & is gentler.
Clean Mode
This sonic toothbrush brushes your teeth at 30,000 strokes per minute to remove plaque & make the most of the recommended practice of 2-minute brushing time.
Massage Mode
Did you know that a nice massage for your gums helps to regulate circulation as well? This massage mode will help to improve the condition of your gums.
Whitening Mode
This setting makes it easier for you to remove stubborn tea or coffee stains by making the brushes work even harder.
Read also: Oral Care Products if you wish to take care of your oral hygiene and wants to have healthy teeth.
Sonic Electric Toothbrushes are proven to be better than Regular Electric Toothbrushes
According to statistics and studies, a sonic toothbrush performs better than a regular electric toothbrush. Why? The brush head for an electric toothbrush rotates at a rate of about 2,500 to 7,500 strokes per minute, compared to sonic toothbrush that rotates at about 30,000 strokes per minute. Although both types of brushes are designed to have a rotating head, however a sonic toothbrush rotates 10 times faster than an electric toothbrush which gives you a better cleaning power.
There is another studies demonstrating improvement in signs of gum disease, removing plaque, reducing gingivitis, and improving tooth and gum health, showing that using a sonic toothbrush could make a difference compared with people who currently have or are at risk for this condition. (Dental, 2019)
That being said, Brudee's sonic toothbrush holds 10 times more power to remove plaque while being gentle to your gum, especially when it is sensitive and prone to bleeding. When you switch to Brudee's sonic toothbrush, you will be able to see a reduction of your bleeding gum up to 3 times just after 15 days! Ultimately, you will have brighter, and cleaner teeth as well as healthier gums.
Brudee Sonic Toothbrush is overall the Better Choice
You might have the familiarities with similar products from multiple popular brands such as Xiaomi electric toothbrush, Philips sonic care, Oral B electric toothbrush, Colgate electric toothbrush and yet you are still searching for a better, cheaper, as well as an electronic toothbrush that has higher efficiency?
From what I can gather, all of the brands have their own specialty and have different benefits. For example, the Philips electric toothbrush has multiple amazing choices you can choose from which may intimidate you and the prices are usually more expensive.
The similar goes to Xiaomi's electric toothbrush- there is no doubt that tech-savvy individuals will prefer this one as it allows you to save your teeth-brushing data into their app, where you will also be able to customize patterns or cleaning modes there. However, what if you're looking to save time and prefer to be able to choose the cleaning modes right away without opening an app to do so? Brudee has the answer for you.
Meanwhile, our childhood toothpaste and toothpaste brand – Colgate also offers a great charcoal-infused nylon bristles electric toothbrush which by now you know can benefit from removing stains from your teeth. However, the brush strokes are 20,000 per minute and though those are enough to clean your teeth- Brudee, which has 30,000 strokes per minute will tackle all the stains, and hidden dirt almost completely after 2 minutes of usage.
| | | | | | |
| --- | --- | --- | --- | --- | --- |
| | Brudee Sonic Toothbrush | Oral-B iO Series 6 | Philips Sonicare DiamondClean 9000 | Colgate   hum                          | XiaoMi Electric Toothbrush |
| 2-minutes brush timer | Yes | Yes | Yes | Yes | Yes |
| 30-seconds timer buzz | Yes | Yes | Yes | Yes | Yes |
| Brushing Mode | 4 | 5 | 5 | 3 | 3 |
| Brush Head | Binchotan charcoal infused nylon bristles with sonic vibration | Round brush head that cleans with micro-vibrating bristles | Angled neck to ease cleaning tough areas with sonic vibrating bristles | Sonic vibration | Metal-free & denser bristle with sonic vibration |
| Operating time after 1 full charge | Up to 21 days | Up to 14 days | Up to 14 days | Up to 10 days | Up to 18 days |
| Warranty | 1 year | 2 years | 2 years | 2 years | 1 year |
As you can see, Brudee's sonic toothbrush is fully equipped with those great features in one product. Other features that make Brudee the better choice is:
The perfect toothbrush and we guarantee that- if you somehow find a flaw on it, we have a 30-day money-back guarantee!
1-year warranty offers you a replacement when you find the quality of the product gets lower. This reflects Brudee's confidence in the high-quality designs and the marvelous product performance.
Charge a reasonable price that is accessible to everybody.
Perfect for people who have braces as the brushes will reach even the hardest areas to clean.
The 400mAh Lithium battery lasts up to 3 weeks, with only 2-3 hours of charging.
So, look no further and give Brudee – the best electric toothbrush a try today for a better and wider smile!
Click here if you wish to read this article in Bahasa Malaysia version: Berus Gigi Elektrik & Cara Gosok Gigi Dengan Betul.